Coronavirus is a family of viruses, meaning there are several strains of coronavirus. Health care providers have seen coronavirus for years and regularly test for the common strains. COVID-19 has warranted intensive surveillance by the CDC because it is a novel strain, meaning it is a strain that had not been seen before; therefore, we are still learning how it spreads and the scope of disease it causes.
 As the COVID-19 pandemic continues, we know that our citizens are concerned about how the virus is spreading and how we as a community can respond. We are working closely with our federal, state and local partners to stay informed with the most current information, to update our plans and to educate the community. Please use the content in this section of our website as a resource. 
 Together, we can make a difference and help keep each other safe and healthy. 
 Have you been exposed to someone with COVID-19 or have symptoms? If so, get tested today for free at the Lawrence County Health Department located at 2379 Buffalo Road in Lawrenceburg. 
SYMPTOMS OF COVID-19
Symptoms of COVID-19 can range from mild symptoms to severe illness and vary by individual. Symptoms of COVID-19 may appear 2-14 days after exposure to the virus and include one or more of the following:
New loss of taste or smell (often an early indicator of COVID-19 infection)
Fever or chills
Cough
Shortness of breath or difficulty breathing
Fatigue
Muscle or body aches
Headache
Sore throat
Congestion or runny nose
Nausea or vomiting
Diarrhea
WHAT CAN YOU DO TO HELP SLOW THE SPREAD?
Wear a mask unless there is a medical reason not to do so.
Practice physical distancing to limit person-to-person transmission.
Wash your hands or use hand sanitizer frequently.
Follow limits on gatherings, especially ones that take place indoors.
Stay home if you are feeling unwell.
If infected or exposed, strictly follow the rules on isolation and quarantine.
WHY IS MASKING IMPORTANT?
As society has opened and more people have resumed work, school, shopping, dining out and other public activities, we have experienced an increase in the number of COVID-19 cases, hospitalizations and deaths.Nearly all public health experts agree that masking, social distancing and hand hygiene will help us to control the spread of COVID-19 until a vaccine is developed. Wearing a cloth face covering when in public is especially important because:
You could have COVID-19 and not yet know.
Masks help contain droplets from the nose and mouth that can spread the virus.
Your mask protects others. Their mask protects you.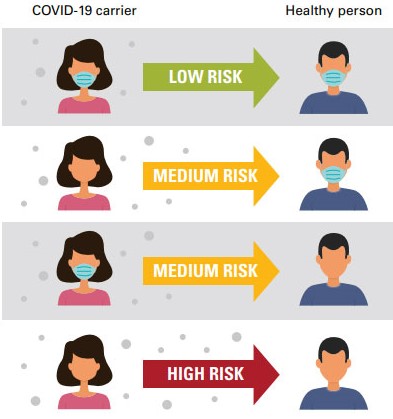 ARE YOU AT INCREASED RISK FOR COVID-19?
The COVID-19 pandemic continues to pose a significant danger to everyone, but many people are at an increased risk for serious complications — including hospitalization, intensive care, a ventilator or even death — due to factors like age or pre-existing health conditions.According to the Centers for Disease Control and Prevention (CDC), those at greatest risk for severe illness due to COVID-19 are seniors and those with underlying health conditions, some of which include:
Cancer
Diabetes
High blood pressure and/or heart conditions
Lung conditions like asthma or COPD
Obesity
Smoking history
If you have one or more of these conditions, as well as any of the other conditions outlined by the CDC, it's important to speak with your primary care provider about steps you can take to manage your health and reduce your risk for COVID-19.
LAWRENCE COUNTY COVID-19 VACCINE INFORMATION
Appointment slots are now available for area residents age 18 and over regardless of phase eligibility.
Individuals who are 16 or 17 years of age should call their local Health Department office to check availability of Pfizer vaccine appointments.
The latest official information on COVID-19 vaccinations is available on social media including the 
EMA Facebook page.
LAWRENCE COUNTY SCHOOLS COVID-19 PLAN
Below is the Continious Learning Plan that was passed by the School Board in July 2020. For more information, visit the Lawrence County School System's website at lcss.us.
COVID-19 LINKS