The area that became Lawrence County belonged to the Chickasaw Nation for two decades after Tennessee became a state, but white settlers were already moving in before the land was purchased from the Native Americans in 1816.
Frontiersman David Crockett brought his family to the untamed wilderness that year and established a gristmill, distillery, and powder mill on Shoal Creek. In his autobiography he wrote "I became so well pleased with the country about there, that I resolved to settle in it."

"Bad characters" moved in as well, Crockett wrote, so Shoal Creek Corporation was formed as an unofficial government to protect honest citizens. Crockett was a magistrate for that temporary body, with the power to marry people, swear out arrest warrants, settle disputes, and act as judge in civil and criminal cases. He was also elected Colonel of the local militia and was addressed as "Colonel Crockett" the rest of his life.
The exact location of the county seat caused contention among local officials. Crockett and one other voted for a location near the geographic center of the county, but three votes won the day for a spot along Andrew Jackson's Military Road.

That road was built as an alternative to the Natchez Trace, which still crosses a corner of northwest Lawrence County. At the time the Trace was a rugged, dangerous route between Nashville, Tennessee and Natchez, Mississippi. General Jackson oversaw construction of a safer, 200-mile-shorter connection between Nashville and New Orleans.
Lawrenceburg's public square was built on the Military Road and at its center was the David Crockett Courthouse. North Military Avenue and South Military Avenue, on respective sides of the Square, are part of the original road. All of Lawrence County's population centers were built along the former Military Road. Portions of that road still exist, but that route through Lawrence County is now the four-lane U.S. Highway 43.
Crockett and Andrew Jackson were political enemies and clashed most notably over the Indian Removal Act of 1830. Crockett was completely opposed to the forced relocation but was unable to stop it.  Jackson's influence helped end Crockett's political career and he left Tennessee for Texas, where his life ended at the Battle of the Alamo in 1836.

As a result of the Indian Removal Act, thousands of Native Americans walked the "Trail of Tears," actually multiple routes from southwestern Tennessee and north Georgia to the Oklahoma territory.  About 700 Cherokee Indians were escorted through Lawrence County in 1838, crossing the Lawrenceburg Square and land that would eventually, and ironically, become David Crockett State Park. Today, park visitors can walk along a portion of that original trail.
Lawrence County did not play a significant role in the Civil War, but it was definitely affected by it.  Union and Confederate troops clashed in Lawrenceburg in late November, 1864 but the Courthouse was spared, unlike other communities'. The Union commander had served in the Mexican War and feared flames from the burning courthouse would damage the Mexican War monument on its north side. Many residents suffered during and after the Civil War at the hands of troops from both sides and bands of criminals who stole food and valuables, and burned homes.
The last battle of the Confederate Army of Tennessee, in Tennessee, was fought at Sugar Creek in the southeast corner of Lawrence County. Confederates defeated at the Battle of Nashville were pursued as they retreated south, but General Nathan Bedford Forrest led a final maneuver at Sugar Creek that allowed the vanquished army to escape across the Tennessee River in Alabama.
Early industry depended on water power from Shoal Creek and other streams, but the lack of a railroad to transport goods hampered development. In 1888 the Columbia, Lawrenceburg & Florence line was completed and spurs from it allowed the development of iron ore mines in southern Lawrence County. West Point, Iron City, and other communities developed as a result. The railroad also brought visitors to the county. Summertown was one community that developed primarily as a resort. At one time, eight hotels served out-of-town guests there.
In 1870 the German Catholic Homestead Association of Cincinnati, Ohio purchased more than 25,000 acres in Lawrence County, including 800 north of the Lawrenceburg Square. Catholic families came from Ohio and other states to build homes, farms, and businesses. Rev. J.H. Heuser arrived with the initial group and organized a church in Lawrenceburg. He later traveled south and established churches in what would become the communities of Loretto and St. Joseph. 
The 'Alabama Migration' brought many families from north Alabama to southeast Lawrence County from 1908 to the 1920s. They bought land covered in virgin timber and established sawmills throughout the area. Once cleared, these families raised cotton, as they had in Alabama. Cotton gins soon became commonplace throughout the county.

Lawrenceburg had electrical power relatively early. The city built a dam and power plant on Shoal Creek in 1908. After providing for the city, power was extended three miles out, and growth demanded a larger facility that was built in 1924. The city continued to generate its own electricity until TVA took over in the 1930s and eventually provided power across the county.
One business established on the Lawrenceburg Square in 1903 earned the city a place in American music history. James D. Vaughan was a songwriter, teacher, publisher, promoter, and entrepreneur declared by Congress to be the Father of Southern Gospel Music. Lawrenceburg was named the birthplace of the genre.
The James D. Vaughan Publishing Company produced thousands of songbooks using the shape-note system, which made it easy to teach songs to groups of people. Vaughan eventually had 20 professional quartets on the road performing, teaching, and selling songbooks.
The Vaughan School of Music was an annual event to train music instructors, but became a full-time venture attracting vocal and instrumental music students from across the U.S. The Vaughan Family Visitor was a national monthly subscription newsletter, dispensing spiritual advice and news about songbooks and quartet appearances. The Vaughan Phonograph Company was the first of its kind in Tennessee and Vaughan established state's first commercially-licensed radio station, WOAN, which broadcast recorded and live music from his Lawrenceburg studio to 35 states and parts of Canada.
Several became friends with the families they worked for and exchanged letters and photos after they returned to Germany. Thirty years' worth of correspondence to the Stribling-Brock family was discovered in a corn flakes box in the 1980s. In 2015, the collection of almost 350 pieces became part of the permanent collection of Lipscomb University.

The trial of 25 black men arrested in the wake of a February, 1946 race riot in Columbia, Tennessee was moved to Lawrence County and held in October that year. An all-white, male jury found two guilty on charges that were later dropped. Although he was never in Lawrence County due to illness, future Supreme Court Justice Thurgood Marshall was the lead defense attorney. A painting memorializing the verdict, "Justice Served," is housed in the Lawrence County Courthouse.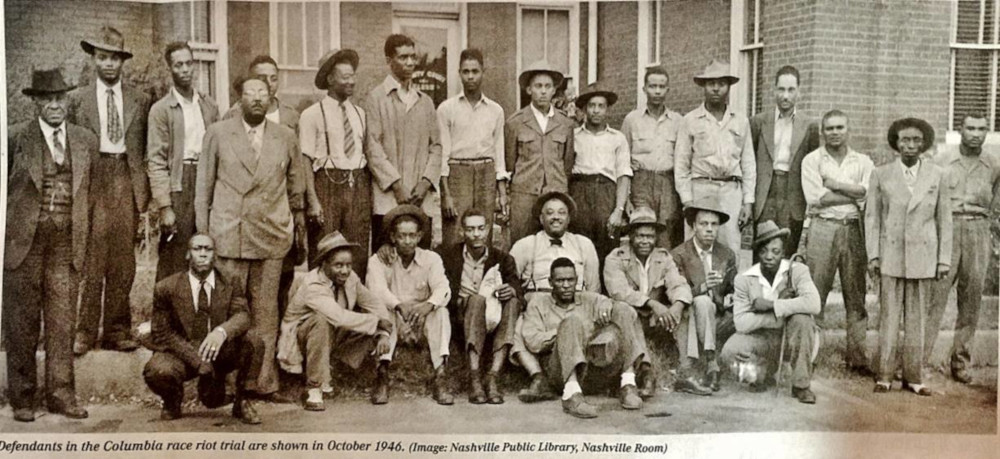 At one point Murray was the largest bicycle maker in the U.S. A top employment of 4,000 made it the largest employer in Lawrence and neighboring counties at the time. The facility had 42.7 acres under roof: 1.5 million square feet of manufacturing space and 1 million square feet of warehousing.

In June 1988 the British holding company Tomkins purchased a majority share of Murray, Inc., as it was then known. Summersong, a Chinese-backed investment firm, purchased it in 2000. The company declared bankruptcy in 2004 and Briggs & Stratton bought the Murray brand name. The local plant shut its doors in 2005.
Another group of people changed the cultural landscape of Lawrence and Lewis Counties in 1971. About 200 hippies followed former San Francisco State College instructor Stephen Gaskin in a caravan of buses and pooled their money to buy 1,750 acres near Summertown. The Farm no longer offers communal living but is one of the nation's oldest "intentional communities" where people live together based on specific common values.
Its population is far from its peak of 1,500 but several nonprofits and businesses founded there still exist. Health care professionals and expectant mothers from around the world come to learn and deliver their children at The Farm Midwifery Center. The Book Publishing Company produces and distributes books on vegetarian cuisine, alternative lifestyles, the environment, and more. Plenty International has been involved in domestic and international missions since 1974.
Lawrence County celebrated its 200th birthday in 2017 with events on the Lawrenceburg Square. Lawrenceburg celebrated its Bicentennial in 2019 and marked the milestone by restoring the statue of David Crockett that was erected on the Square in 1922.  The restoration removed a green patina that covered the bronze likeness and repaired a bullet hole caused by an unknown assailant.